Another fun dublab set. I know it was last month, but hey it's never too late to celebrate International Women's Day. So this set goes out to all my female compatriots and how utterly rad we all are :) If you're not going to respect yourself, who will?

Click here to listen to the set.




1. FRANCE GALL - DON'T MAKE WAR CAPTAIN, MAKE LOVE - 7"
One of her very few songs sung in English. I love the guitar tone. Sweet happy candy pop.



2. TAMMYS - EGYPTIAN SHUMBA - 7"
Pure giddy excitement. A total feast of girls growling and howling. Totally insane. It's like a Phil Spector production going out of control; totally raw. Dance, Dance, Dance!



3. COCO ROSIE - NOT FOR SALE - LA MAISON DE MON REVE
Some have been a bit much for my senses, but this track is composed, restraint and good. Their live show is captivating; one of my favorite current girl groups.



4. MARY J BLIGE - ENOUGH CRYING - THE BREAKTHROUGH
The "Queen of Hip-Hop Soul." Enough is enough... you gotta love her.



5. LUIZ ECA Y LA FAMILIA SAGRADA - SA MARINA - LA NUEVA ONDA DEL BRASIL
Supposedly the current most wanted Brazilian Popular Music (MPB) record, this is a rare Nelson Angelo song with the beautiful Joyce in one of her earliest recordings.



6. MARCIA GRIFFITHS - WORKING TO THE TOP (MY AMBITION) (PART I) - PLAY ME SWEET & NICE
The "Queen of Reggae"



7. AMY WINEHOUSE - BACK TO BLACK - s/t
I'm really into Amy these days. She's like the ultimate modern day female singer, in the spirit of those great 60s chanteuses. In one of her other songs, "Rehab," I think she is channeling M. Griffiths. Even though I'm not into tattoos at all, I'm weirdly attracted to hers.



8. SUSANNA & THE MAGICAL ORCHESTRA - CRAZY, CRAZY NIGHTS - MELODY MOUNTAIN
A gorgeous covers album, this track (a KISS song!) just kills me. The quietness of this version is contrasted by the beefcake lyrics and it works!



9. LADY & BIRD - SUICIDE IS PAINLESS - s/t
Dutch-Indo Keren Ann as Lady and Icelandic Bardi as Bird. This M.A.S.H. cover is as ethereal & emotional as the last track. Also refer to this and this.



10. FRANCOISE HARDY - ONLY FRIENDS - 7"
What can I say? Love her.



11. CLAUDINE LONGET - LET'S SPEND THE NIGHT TOGETHER - CUDDLE UP WITH CLAUDINE
Pls refer to this blog entry.



12. GEMINIS - A FRIEND OF MINE - ONE KISS CAN LEAD TO ANOTHER: GIRL GROUP SOUNDS LOST & FOUND
Another awesome track by another awesome gang of girls.



13. QUIXOTIC - SITTING IN THE PARK - MORTAL MIRROR
This song is for emo+beer = busted career. Thanks bro.



14. BETTY DAVIS - YOU & I - THIS IS IT!
Miles Davis' 2nd wife, she is one bad-ass seductive lady (which scares me).



15. HOPE SANDOVAL & THE WARM INVENTIONS - CHARLOTTE - BAVARIAN FRUIT BREAD
Released in 2001, this is a bewitching, elegant yet overlooked gem. Bert Jansch bequeaths his masterful guitar skills to this track.



16. DNTEL (FT. JENNY LEWIS) - ROLL ON - DUMB LUCK
Prolific and inspirational, Ms. Lewis adds her own charm to Jimmy's already charming album.



17. DIANE RAY - PLEASE DON'T TALK TO THE LIFEGUARD - BOYD RICE PRESENTS MUSIC FOR PUSSYCATS
Hilarious and adorable. I should start surfing again.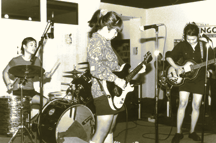 18. EMILY'S SASSY LIME - PINEAPPLE BOYS NEED NOT APPLY. - RIGHT IS HERE
No really. I really mean it - pineapple boys need not apply.



19. CHANTAL GOYA - COMMENT LE REVOIR - MASCULIN-FEMININ
Most famous as the femme in the Godard film "Masculin, féminin," this yé-yé girl was born in Saigon (!)



20. GLENDA COLLINS - FIND ANOTHER FOOL - THE LITTLE GIRL'S GONE ROCKIN'
I really feelin' the lyrics to this track lately. The greasiest song of this set.



21. KAREN DALTON - SOMETHING ON YOUR MIND - IN MY OWN TIME
Oh gosh, pls refer to this blog entry.



22. CATHERINE HOWE - NOTHING MORE THAN STRANGERS - WHAT A BEAUTIFUL PLACE
Don't know much about this lady, but Catherine is the female equivalent to Nick Drake's pastoral pop.



23. DAUGHTERS OF ALBION - GOOD TO HAVE YOU - s/t
Produced by Leon Russell. OMG! I realized just now that I should've played Russell's "Superstar" covered by the female duo, Spring! Damn it! That would have been a really good one.



24. NINA SIMONE - DO WHAT YOU GOTTA DO - THE BEST OF NINA SIMONE
This song speaks for this set...